FPSC (Federal Public Service Commission) announced the CSS date sheet 2022 for the CSS exam in the February of 2022. As per the announced date sheet, the CSS exams will start in the mid of February and end in the last week of February.
Below is the table for the date sheet of CSS 2022, From where you can see the actual Day, Date, Subjects, Paper, and Exact timing of your exam. The areas where it is written TBA, which means To Be Announced," and waiting for further instructions.
Right after that table of FPSC CSS schedule, Which we created for you, You will find the actual picture of the official CSS date sheet, So that you are more comfortable with the authenticity of the date sheet.
As the CSS exam date sheet 2022 is announced, now it is a perfect time to have a quick look at CSS Revised Syllabus, CSS Past Papers; get some CSS Books for preparation and Toppers notes so that you don't miss the opportunity to be a successful CSP!
COMPULSORY SUBJECTS

DAY

DATE

SUBJECT

PAPER

TIME

TBA

Feb, 2022

English (Precis and Composition)

TBA

English Essay

TBA

TBA

Feb, 2022

Islamic Studies/Comparative Study of Major Religions (For Non-Muslims)

TBA

General Knowledge (General Science and Ability)

I

TBA

TBA

Feb, 2022

General Knowledge (Current Affairs)

II

TBA

General Knowledge (Pakistan Affairs)

III

TBA

OPTIONAL SUBJECTS

TBA

Feb, 2022

International Relations

I

TBA

Political Science

Accountancy and Auditing

Computer Science

Economics

International Relations

II

TBA

Political Science

Accountancy and Auditing

Computer Science

Economics

TBA

Feb, 2022

Sociology

TBA

Punjabi

Pushto

Psychology

Sindhi

Journalism & Mass Communication

Geography

Anthropology

Balochi

Arabic

Persian

Gender Studies

TBA

Environmental Sciences

Agriculture & Forestry

Zoology

Urdu Literature

English Literature

Botany

TBA

Feb, 2022

Criminology

TBA

International Law

Constitutional Law

Muslim Law& Jurisprudence

Mercantile Law

Philosophy

Law

History of USA

TBA

History of Pakistan & India

Islamic History & Culture

European History

British History

TBA

Feb, 2022

Public Administration

TBA

Business Administration

Governance & Public Policies

Town Planning & Urban Management

Statistics

TBA

TBA

Feb, 2022

Physics

I

TBA

Chemistry

I

Applied Mathematics

Physics

TBA

Chemistry

II

Pure Mathematics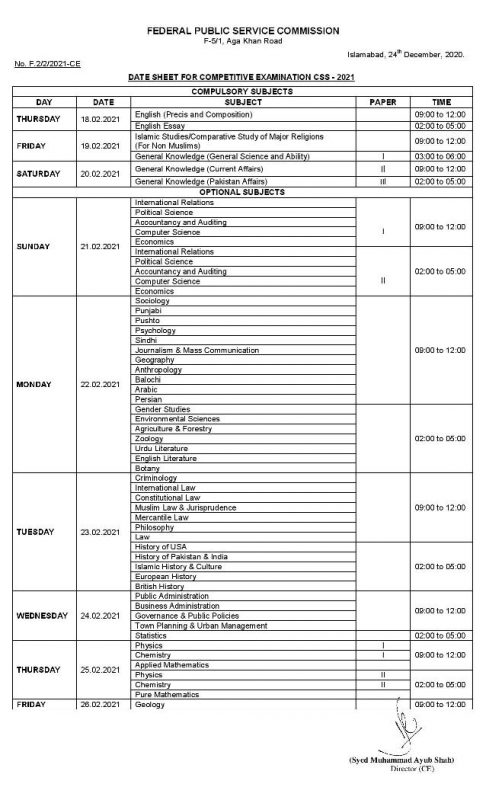 Did you find it really useful to see the actual date sheet of CSS? and Is the website easy to access and browse? If YES, then please don't forget to share this CSS Date Sheet page and our website with all your friends and colleagues who want to be CSPs.